About Us
Servers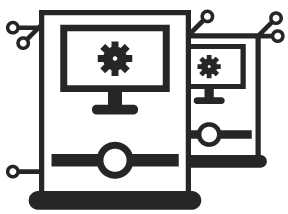 We believe in solid, reliable hardware and as such chose to use Dell's proven technology. All our servers are state of the art Dell machines, supporting the latest Xeon technology. These servers can be customised to your requirements, just give us a call and we can arrange a brand new server to suit you.
The Technical Bit
Power
The datacentre is powered by multiple feeds from the national grid
APC UPS units to regulate power and take over during a power outage
Multiple backup generators to take over if the grid fails for prolonged periods of time
Cooling, Fire and Security
Raised floor cooling with a hot isle, cold isle setup
Temperature regulated to a 21C throughout
VESDA FM200 Fire Suppression system
Full CCTV monitoring
All our servers are hosted in a Manchester based facility, close to Manchester City Centre. The facility has multiple internet connections through different providers giving coverage during any possible problem, meaning you are always connected. Direct connections exist to the Manchester Internet Exchange and LINX in London.
---
Got a question ?
My requirements don't match an existing package.
We don't let that stop us, we can build a package to your needs, just give us a call!
I want a server but don't know where to start.
Drop us an email or give us a call! We can help you with managed services, just tell us what you need.
I need something small, that can grow with me
We can offer hosting of any size and scale, to match any budget. All our solutions can be scaled up to match your sites requirements.